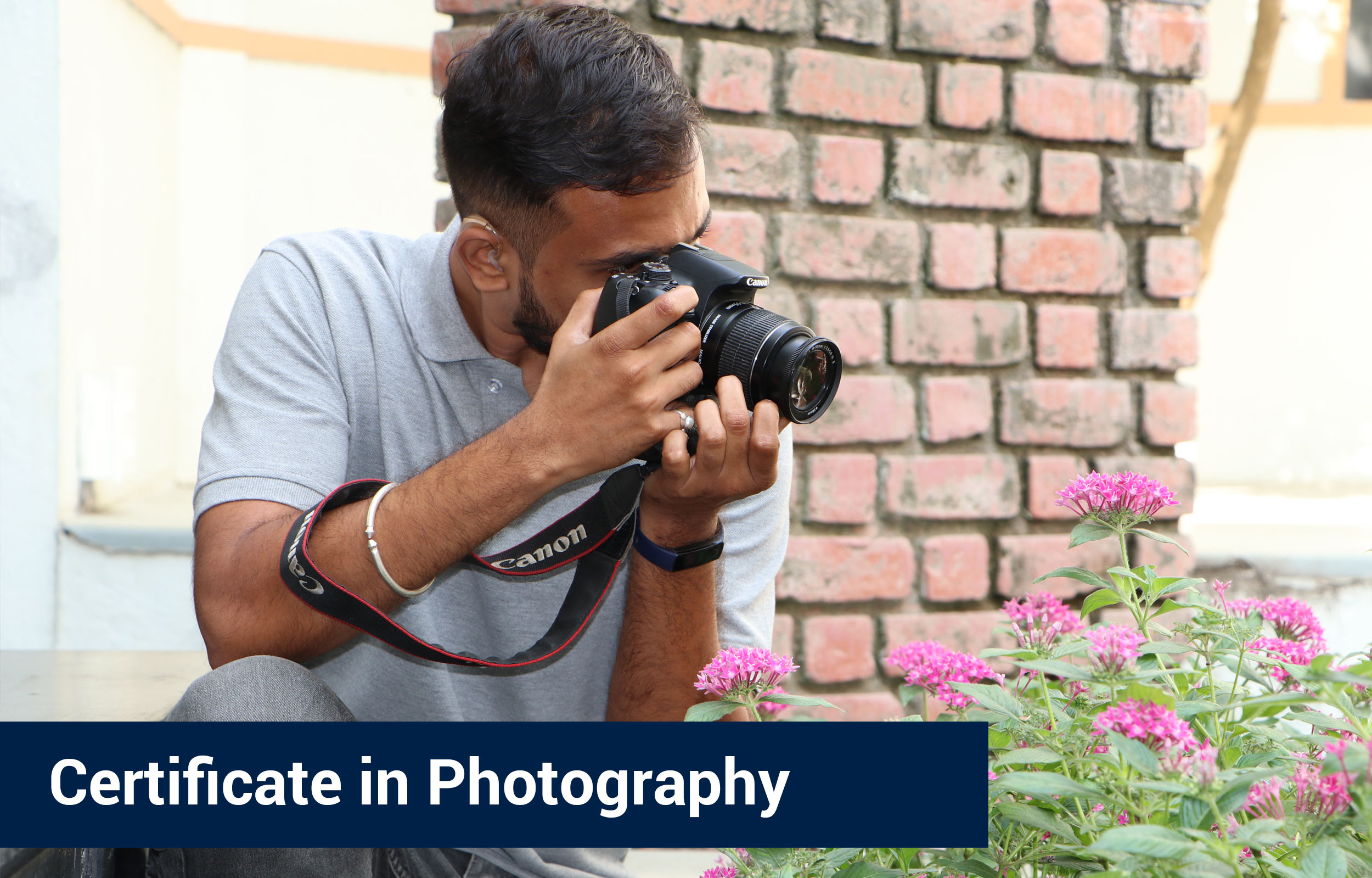 "Certificate Course in Photography"
The one year course aims to impart a holistic knowledge of photography. The course develops the necessary skills needed among the students. The students are honed to enhance their creative craving and aesthetics understanding in order to achieve a perfect image. The course deals with core competencies of the field and sufficient practical knowledge to prepare industry ready students.
Academic
The students are exposed to different genres of photography prevalent in the field. The students are given ample opportunity to take up practical assignments for hands-on learning. The students are regularly updated through workshops and guest lectures. The handling of latest cameras and other equipments builds the confidence of students and allows them to exhibit their creativity.
Outdoor Shoot
Apart from the studio setup in the campus we arrange outdoor shoots for students. The students are free select their area of interest and visit the outdoor places for capturing the real inspiring moments. We organize regular trips for hunting the appropriate location and find the right spot for the frame. The freedom brings out the best of students who are immersed in search of perfection.
Co-Curricular activities
We at MGM organize various exhibitions time to time to showcase the talents of our budding professionals. The events boost the confidence of students and they receive appreciateion from the experts in the field along with suggestions for improvement in future.
Career
Multiple career options await the students after completion of course. The key areas are:
Academic Institutions
Event Management Companies
E-commerce companies
Photography Studios
Artefacts Shops
Advertising Agencies
New Channels
Print Media
Module 1: Basics of Photography
Introduction to Photography
History of Photography
Types of Photography
Camera Accessories
Module 2: Photo Environment
Lights
Mechanism of Camera
Types of Camera
Types of Lenses
Optics
Module 3: Photography Techniques
Exposure
Aperture
Shutter speed
ISO
Focusing
White Balance
Metering
 Module 4: Post Processing
Composition
Post Processing Techniques
Photo Editing and Manipulation
Ethical v/s Unethical Photography
Module 5: Project
Module 6: Internship
Eligibility And Requirements
S.S.C. (10) with min 40% marks.
Any Basic DSLR camera is mandatory.
Duration:6 Months
Timing:08:30 AM To 12:00 PM
(Monday- Saturday)
Admissions: To Be Announced
Last Date of Admission: To Be Announced
Course Starts
From: July 2020
Fees:Rs.80,000