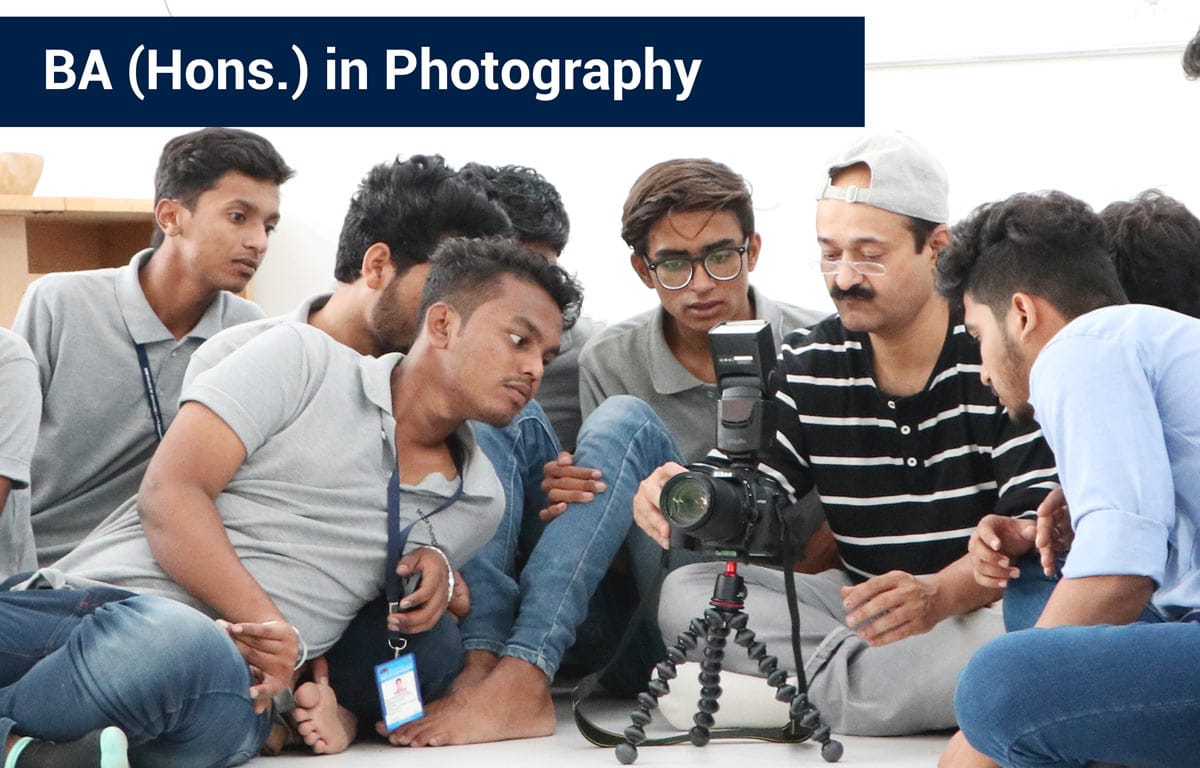 Duration : 3 years (6 Semesters)
Annual Fees : Rs. 1,00,000/- + University fees
PROGRAM OVERVIEW
The program aims at inculcating all the necessary skills required to compete as a professional photographer. The students after completing the course can directly be absorbed into the industry and serve the society with their acute knowledge of photo aesthetics and visual grammar. Faculties and experts from the field of photography guide and expose students to the diverse specialization while hands-on experience enhances their photography skills and creativity.
The program tries to develop the student gradually from introduction to the field of photography to proficiency in the nuance of the field. The practical approach to the teaching-learning process leads to the holistic development of the graduate. Each semester with mandatory internship, projects, and dissertations enhance the understanding of core areas of photography and complement the final professional outcome of the program.
The program prepare students in the following fields:
Wedding Photography
Portrait & Table-Top Photography
Glamour Photography
Nature & Wildlife Photography
Photojournalism & Social Documentary
Architectural Photography
Fine Art Photography
Travel & Landscape Photography
Photo Branding and Marketing
Photo Aesthetics and Appreciation
First Semester

Second Semester

Introduction to Photography
Portrait Photography
History of Photography
Photography Environment (lighting)
Camera Mechanism
Computer Applications for Photography
Photography Optics
Wedding Photography
Grooming for Photograph
Soft Communicative Skills
Environmental Science
Visual Language
Photography (Camera) Accessories

Third Semester

Fourth Semester

Set Designing
Basics of Glamour Photography
Table Top Photography
Wildlife and Nature Photography
Creative Colour Concepts
Video Production
Photojournalism
Architectural Photography
Personality Development
Photo Branding and Marketing
Travel and Landscape Photography
Photo Aesthetics and Appreciation

Fifth Semester

Sixth Semester

Portfolio
Field Internship**
Conceptual and Manipulation
Seminar**
Photography
Social Documentary
Project
** Semester 6 – 16 weeks INTERNSHIP Evaluation:
This semester the student has to undertake a 16 week Industrial Internship with a mid-term progress report after 8 weeks in person or through Skype. The end-term evaluation will be done through a Seminar presentation and report submitted by students at the end of the Internship in the presence of members from industry and academia.
10+2 or equivalent from a recognized board
Proficiency in the English language